Boss in Final Fantasy XIV: Hobbes
Arguably the most challenging fight in the entire raid, this will have each alliance on their own platforms. If you can, position your healers on the sides because it's the only way for players in other alliances to get you (otherwise you'll be out of range). This isn't like The Orbonne Monastery Thunder God where it's reliant on each group working together. This also rotates different attack patterns to each party.
Laser-resistance test: Raid-wide attack that hits three times initially, and up to six times later on.
Ring Laser: More positional damage that comes in waves and moves closer to the center of the platform. Stand directly in the middle or move into the area it has already struck to avoid damage.
Laser Sight: This will be a stack in front and behind mechanic. It will happen whilst one of the attack patterns below occurs.
Attack Pattern 1: Fiery End
If the flamethrowers on the back of the wall are lit up in the middle, get to the sides. If they're lit up on the sides, stay in the middle. Get to an area where they're not lit up.
Attack Pattern 2: Surprise Mechanics
The claw will grab a giant box from below. Get to the outside to avoid the proximity marker, and position yourself on the corners of the box. The box's sides will fall over causing massive damage it hits.
The robots inside will target players. Have the tank grab the tethers and mitigate damage.
Attack Pattern 3: Giant Claw
When the claw comes down, it will put down two markers. One doughnut AOE and another that has two cone cleaves at around 45 degrees each. Each is on one half of the arena.
What can be confusing is the turning mechanic because many expect the cleaves to simply rotate 45 degrees onto the current safe area.
Instead, it will rotate 90 degrees. So the cleave safe area will remain safe for the second and third cleave, but the doughnut will need to be dodged.
You only have a second to react, so the best way to handle the doughnut is to stay on the outside. You can stay closer to the center, but there is an overlap you need to watch out for.
Attack Pattern 4: Alliance-specific Attacks
This is where things can get tricky. Each platform will receive a unique onslaught. All will be tied together with mechanics such as not touching a specific part of the arena, avoiding AOEs, Ring Lasers and stacks.
Platform A has glowing lines to avoid
Platform B is turned into a conveyor belt
Platform C you just need to avoid the bubbling areas (like in Saint Mocianne's Arboretum (Hard)'s final boss, but reversed)
This can be a bit of a chaotic fight, but relatively simple once you get the mechanics down. Really, only attack pattern 3 can be troublesome.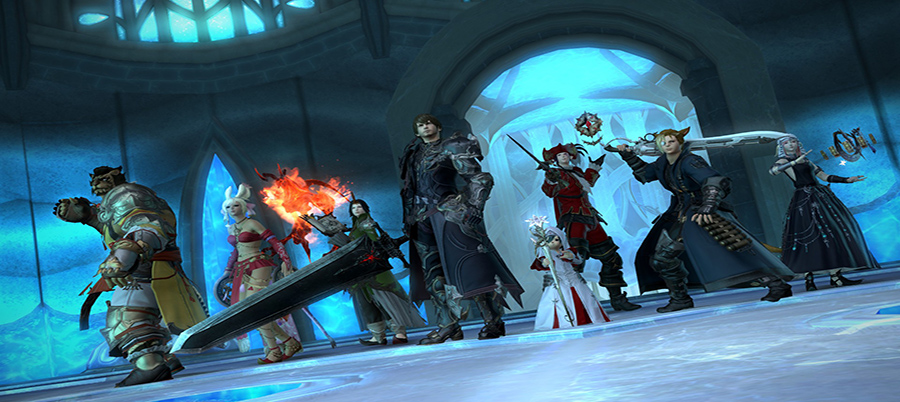 If you are lack of plenty of FFXIV Gil to enjoy the game, Onlinegameshop.com is definitely your first choice. As one of the best stores for game resources, we offer 100% legit Final Fantasy XIV Gil for EU, JP and NA with the cheapest price, fast delivery and safe payment to global players. With rich experience in this field as well as a good reputation in the market, we are committed to providing high quality FFXIV Gil to help players buy here easily and safely! Cheap FFXIV Gil for EU, JP and NA on hot sale at our site, so if you need enough FFXIV Gil to help you get closer to victory, do hesite to buy from our site. We will not let you down.

Why Choose Onlinegameshop.com?
Onlinegameshop.com is one of the best online seller that offers cheap game items and currencies. Here are the advantages of buying game resources from this reliable platform.

Fast Delivery - Since we have professional service team, we guarantee that we will finish goods delivery in 15 minutes.

Secure Payment - 100% secure online payment system proved by a million users.

Refund Guaranteed - We ensure that buyers receive the item they ordered or get their money back.

24/7 Live Chat - Our service is ticking around the clock. Contact us anytime you need help.


Steps That Help You Buy FFXIV Gil Quickly and Safely

The steps of purchase are as simple as below.

1. Select the items you need, add them to shopping cart, or pay immediately.

2. Submit the correct information and complete the payment.

3. Accept our invite in the game, if the waiting time is too long, please contact customer service.


Cheap FFXIV Gil for sale at our site with fast delivery, cheap price and safe transaction. If you have any problem on buying FFXIV Gil here or place an order from us, please feel free to hit us up through our 24/7 Online Livechat. We will be at your disposal at any time and wish you a good shopping experience!