Charlotte Hornets trade Dwight Howard to Brooklyn Nets
The Brooklyn Nets have reportedly acquired former All-Star center Dwight Howard in a trade with the Charlotte Hornets, according to ESPN's Adrian Wojnarowski and Yahoo Sports' Shams Charania. The news was also confirmed by Rick Bonnell of the Charlotte Observer.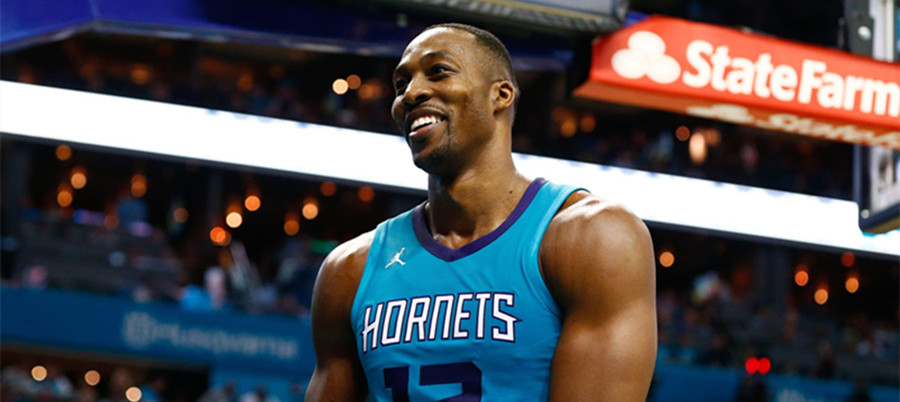 In the deal, the Nets will send two future second-round picks, cash and center Timofey Mozgov to the Hornets for Howard. Here's Charania on the deal itself (via Twitter):
Sources: Charlotte traded Dwight Howard to Brooklyn for Timofey Mozgov, two second-rounders and cash considerations.
And here's more from Wojnarowski on the particulars of the trade:
Charlotte was determined to move out Howard, who has a $23.8 million expiring contract.




The Hornets will receive the Nets' second-round pick (No. 45) in Thursday's NBA draft and a 2021 second-round pick, league sources said.




Mozgov has two years, $32.7 million left on his contract. Charlotte general manager Mitch Kupchak signed Mozgov to the four-year, $64 million deal with the Los Angeles Lakers two years ago.




The deal can't be completed until the moratorium ends on July 6. The Nets will need money to expire off the salary cap to take on Howard's salary.
One year ago today, the Atlanta Hawks traded Howard to the Hornets for Miles Plumlee, Marco Belinelli and a swap of second-round picks -- a trade that took place two days before the 2017 Draft. This time around, he is reportedly being traded one day before the 2018 Draft.
While the move allows the Hornets to unload Howard's contract and save about $7 million under this year's salary cap, it is a bit of a gamble because Mozgov has two years remaining on his current contract at $16 million per year.
The Nets landed Mozgov last summer as a part of their trade for the Los Angeles' Lakers D'Angelo Russell. In that deal, the Lakers sent Mozgov to Brooklyn for Brook Lopez and the rights to rookie Kyle Kuzma.
Howard's most impressive game of the 2017-18 season came on March 21 (ironically enough, vs. Brooklyn), when he finished with 32 points and a career-high 30 rebounds in a comeback win against the Nets.
Last season, he ranked third in the NBA in rebounds per game (12.5), fourth in double-doubles (53), ninth in blocks (1.6) and 11th in field-goal percentage (55.5 percent).
However, Howard struggled to mesh with Charlotte's guards, and the Hornets failed to make the playoffs despite what former coach Steve Clifford considered the team's most talented roster in half a decade.
Mozgov appeared in 31 games last season, averaging 4.2 ppg, 3.2 rpg while shooting 55.9 percent in 31 games. He has not played a full 82-game season since 2013 and has averaged in double figures only once during his eight-year NBA career. (By contrast, Howard has averaged 17.4 points, 12.7 rebound and two blocks per game since joining the league in 2004.)
The Lakers signed the veteran Mozgov in the summer of 2016, but he struggled to fit him into their system in the 2016-17 season, leading to his trade to Brooklyn. This is a reunion of sorts for Mozgov as Kupchak signed Mozgov to a four-year, $64 million deal in 2016 when both were with the Lakers.
Kupchak was GM of the Lakers when L.A. acquired Howard in a then-blockbuster trade with the Orlando Magic before the 2012-13 season. After spending the first eight seasons of his career in Orlando, Howard has played for the Lakers (2012-13), the Houston Rockets (2013-16), the Hawks (2016-17) and the Hornets (2017-18) with the Nets up next.
In the 2011-12 season, reports surfaced that Howard sought a trade to the Nets to play alongside All-Star Deron Williams and the rest of Brooklyn's then-youthful crew. But that deal never materialized.
Cheapest NBA 2K18 MT, Cheap NBA 2K18 Coins and NBA 2K18 VC Account on www.OnlineGameShop.com, instant delivery, 24/7 service. 100% safety!