Free Shazam Items Entered Rocket League - Buy Cheap Rocket League Items On Reliable Onlinegameshop.com
Yesterday, Psyonix announced that new in-game items inspired by the DC Comics film Shazam were introduced into the popular Rocket League. The new items include Shazam Octane Decal and Shazam Wheels. The most exciting news is that these items are totally free for all players.


Just as Billy Batson says, "Shazam!," to get his super powers, so too will you get your items! To get the new items is quite easy. All you should do is to enter key word "shazam" in the "Redeem Code" menu. Even though Shazam Octane Decal and Shazam Wheels may not come with super strength or bullet immunity, you'll still look super cool when your Battle-Car goes flying through the air!

Rocket League, a wonderful soccer game with cars which is now available for all platforms like PC, PS4, Xbox One, macOS, Linux and Switch, has attracted millions of players throughout the world since its release. In order to go further in the game, players need to get Rocket League Items, Crates and Keys to help them better equip their battle-car and level up faster. For players who do not want to spend too much time in searching for items, buying from a reliable and trustworthy store is the fastest way to get items. Onlinegameshop is the best choice for all players. With several years of experience in the field, we offer a variety of Rocket League Items to meet players' needs. Fast delivery, affordable prices, safety guarantee and best service are ensured to all our clients.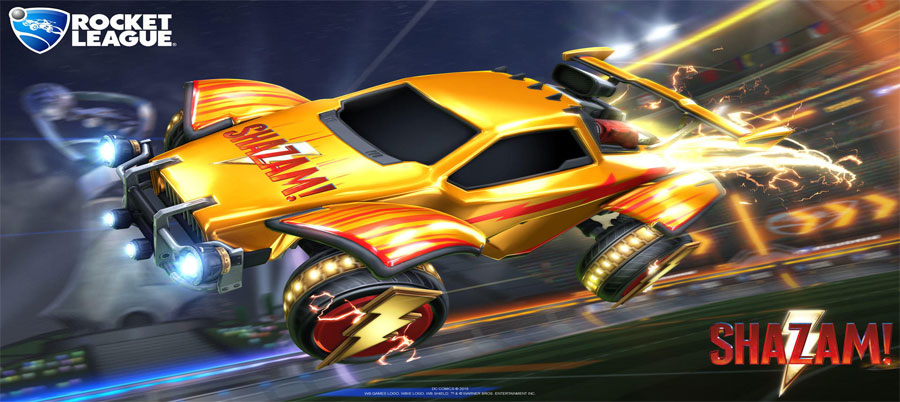 Advantages of Buying Rocket League Items From Onlinegameshop
Here are some of the services provided by the Rocket League Items that include:
Instant Delivery
Full stock of Rocket League Items ensures us to deliver items within 30mins in general circumstances.
Cheap Price
As we have stable game resources suppliers, we provide all players with cheap prices in buying Rocket League Items.
Refund Policy
If you purchase Rocket League Items you do not want, you can ask for a full refund before delivery.
Safety Transaction
Purchasing Rocket League Items, Keys and Crates from Onlinegameshop is 100% safe. We offer different payment methods to make it convenient for worldwide players.

How to Buy Rocket League Items from Onlinegameshop
The steps of purchase are as simple as below.
1.Select the items you need, add them to shopping cart, or pay immediately.
2.Submit the correct information and complete the payment.
3.Accept our invite in the game, if the waiting time is too long, please contact customer service.

If you have any problem on buying Rocket League Items here, you can contact us through our 24/7 Online Livechat at any time.