"He is a total freak," said the network's Mike Mayock
Before Saquon Barkley even ran the 40-yard dash Friday, one NFL Network analyst couldn't help but sing a few bars of "Super Freak" while commenting on the athleticism of the former Penn State running back.
"He is a total freak," said the network's Mike Mayock, a former NFL player and current analyst. "And the best thing about it is he's just as clean off the field as he is on the field."
Barkley entered the NFL Combine with the hype of ESPN's Todd McShay saying he was the best prospect since Adrian Peterson. And, despite all that, he still surpassed the expectations set for him in Indianapolis.
He skipped both the broad jump and three-cone, but he posted other numbers that place him in some incredibly elite categories. Put simply, Barkley is a generational talent — and his numbers back that up.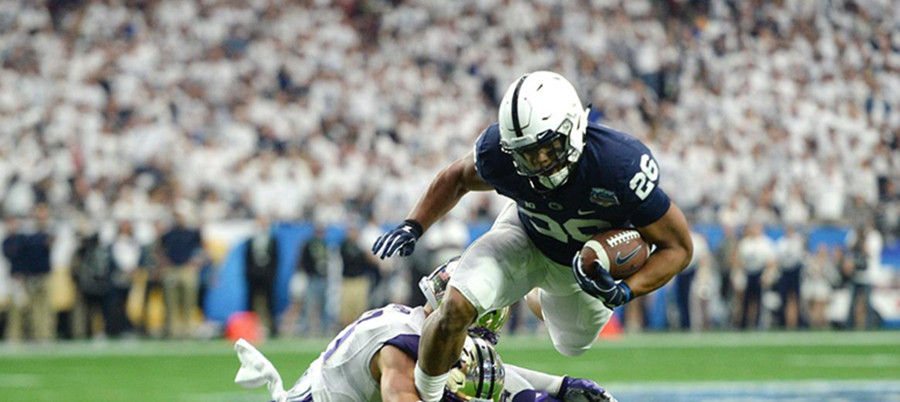 Take a look:
▪ He ran a 4.40-second 40-yard dash on his first attempt, despite being forced to adjust his stance when his lead foot was past the starting line. He stumbled slightly on the second attempt — and still clocked a 4.42. Mayock said anything better than a 4.45 for the 233-pound Barkley would be "outstanding, top level."
According to Fantasy Guru's Graham Barfield, that is the seventh-best weight-adjusted 40 time among running backs since 2003. That puts Barkley in the 98th percentile. That's faster than Ezekiel Elliott (4.47) and every first- and second-round running back since 2013.
"There is the bona fide star of the running back class," analyst Rich Eisen said.
▪ Barkley posted a 41-inch vertical, which is the eighth-best mark among running backs since 2006 and the sixth-best of the last five years.
Only one player in last year's Combine — the Oakland Raiders' second-round pick, safety Obi Melifonwu — broke a 4.45 in the 40 and jumped at least 40 inches in the vertical. And he had 12 fewer bench-press reps than Barkley and weighed 224 pounds.
"You know what that is? That's a create-a-player on Madden," NFL Network analyst Steve Smith said, referring to the former Nittany Lion.
▪ On Thursday, Barkley performed 29 bench-press reps, one fewer than what he did last summer at Penn State's Lift for Life. That was the fourth-most reps by a running back in the last five years.
That would've even been a great number by offensive lineman standards. In fact, if he were a lineman, his bench-press would've ranked 19th out of 132 OL over the last five years. That'd put him in the 86th percentile.
"The Giants are second overall, and there are Cleveland Browns fans who are pounding the table, saying leave the quarterback to fourth overall and take that kid," Eisen said.
▪ Those three numbers together — 4.40, 41, 29 — are incredibly rare from one prospect.
Last season, only one player had 29 or more reps and 41 inches or more on the vert, and that was No. 1 overall pick DE Myles Garrett, who ran a 4.64. If you go back to 2000, out of thousands of competitors at the Combine, only one player at any position has posted numbers that reach Barkley's marks.
Only two players since 2000 have run 4.40 or faster, jumped 41 inches or higher and benched 29 reps or more: Barkley and tight end Vernon Davis, who was taken No. 6 overall in 2006. The Maryland alum ran a 4.38, jumped 42 inches and performed 33 reps. Since 2000, Barkley is the only running back to post up those kinds of numbers.
Oh, and let's not forget about Barkley's intangibles.
"He is making as big of an impression in interviews as he will with his performance on the field," NFL Network sideline reporter Kimberly Jones said.
If you wish to body a able aggregation in Madden NFL 18, you can go to buy some coins. Cheapest NFL 18 Coins, Cheap Madden 18 Bill and Madden Mobile Bill On www.OnlineGameShop.com, Instant Delivery, 24/7 Service. 100% Safety! There is no charge to anguish about any assurance problem, we accept a profession accumulation to ensure all the affairs are proceeded in a safe environment. If you ache a accident due to the safety, we yield abounding albatross for it.
We are @Onlinegameshop,an Online Game Service aggregation (Founded @2010) that specializes in in-game currency, we accept congenital our acceptability in the industry based on our years of acquaintance in this acreage and alms fast bill supply and adjustment deliveries because of our able bread farmers and our reliable and trusted Partners.