James finished with 45 points, nine rebounds and seven assists
At the beginning of the second quarter of Game 7 against the Indiana Pacers, LeBron James looked over to his family and told them that that he was playing the whole game. At that time, he had 17 points on 7-for-7 shooting while the rest of the team combined had 18 on 6-of-18.
James finished with 45 points, nine rebounds, and seven assists. After scoring 13 points in the first quarter without missing, the Cavaliers had a 12-point lead. He scored 13 more points in the second quarter to give them an 11-point lead going into the half, and then he scored 12 in the third before having to sit with cramps with less than a minute left in the quarter.
James' teammates stepped up without him and he was able to rest, but the Cavaliers wavered in the fourth quarter, only managing to win the game by four points. The Pacers had several chances to steal the win near the end of the game, and those chances correlated with the best player in the world feeling less than 100 percent.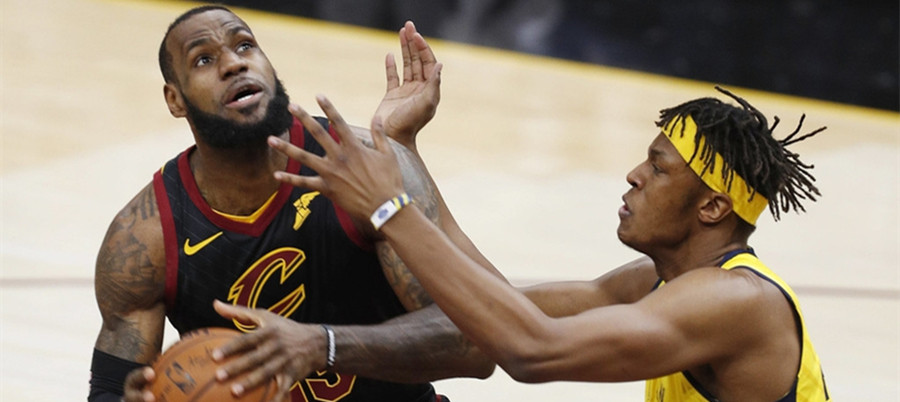 When James said he was playing the whole game, it was both a reflection of his competitiveness and an indictment of his team. It's not just that he wants to play the whole game because he doesn't want to leave anything to chance, but also that he can't afford to leave anything to chance, even in the first round of the playoffs.
This Cavaliers' team needs James to push himself to the limit just to survive. That Tristan Thompson, Kevin Love, and George Hill were able to contribute as they did was a welcome surprise, but it was still a surprise, and one that only subtly took the burden off James. Throughout the series, no matter how great James was, there was no lead that he could create that the Pacers (and some of this is a credit to them) couldn't come back from.
The Cavaliers are tragic in that James has seemingly returned to the position that he was in before he left for Miami, and that it's partially his fault. Circumstances have changed — he's won titles elsewhere, and is forever a legend in Cleveland for winning them their first in history. But he also bears some responsibility for this team's struggles: from his relationship with Kyrie Irving, which seems to be part of the reason Irving left, to his current teammates, who he helped bring in after the Cavs' midseason shakeup.
In Cleveland, James has an enormous amount of power he wouldn't in many other places that could provide him a better team structure, and that implicates him in the Cavs' struggles even if we acknowledge that dabbling in the roles of a general manager, coach, and player is a lot to ask someone.
That midseason turnover was an attempt to avoid the situation that James is in now. A situation in which he could have a spectacular 45-9-7 game and his team could still be on the cusp of elimination. It's incredible that a 33-year-old James is still at his peak (or has reached a second peak), but it's also disheartening that an old James has to consistently put up these absurd numbers just for his team to have a chance.
What we have now is a chance to marvel at how ridiculous James is as a player, even at an age when most basketball players are waning. He's showing that he can be practically unguardable when he wants to be, that he is still the best player in the league, and that the only thing that can really stop him is his still-human body and the consequences of overexertion. A bad team is usually a perfect stage for a great player to showcase their ability and limits, simply because most of the responsibility to win falls on their shoulders. It's fun to watch James take over Game 7s and have absurd stats every night.
The Cavaliers, unfortunately, need James to have those nights. And even then, the measure for their success is a championship, which is where we reach the critical point in the tragedy.
This Cavaliers' team that was pushed to a Game 7 in the first round of the playoffs will now face the Raptors, a better and deeper team than the Pacers. If the Cavs manage to succeed there, they will presumably face an even better team, and after that they would have to face the best from the West, which could be Golden State or Houston. Either one of those teams are a substantially better than the Cavaliers.
The cliche is that as long as the Cavaliers have James that they have a chance against anyone, but that's not entirely true. James is a demigod who chose to play basketball, but he has the ultimate and unfortunate limitation of being singular. There are numerous cases that prove that a team dependent on one superstar can't be a championship winning team. It's the fault in the Westbrook system in Oklahoma City. It's why the Rockets needed Chris Paul to team with James Harden. It's why Kobe Bryant gave the Lakers the ultimatum of either trading him or bringing in better supporting players. And it's why young James went to Miami for a few years to play with two other superstars.
Cheapest NBA 2K18 MT, Cheap NBA 2K18 Coins and NBA 2K18 VC Account on www.OnlineGameShop.com, instant delivery, 24/7 service. 100% safety!