Renault Vitality Won the Crown of RLCS World Championship Season 7
The Rocket League Championship Series, also known as the RLCS, is the Psyonix funded Rocket League league. The competition began in Spring 2016 with its inaugural season giving an opportunity for the top North American and European teams to fight for their share of the $75,000 USD prize pool. RLCS Season 7, which started on March 30, 2019, has put an end on June 23 with Renault Vitality getting the world champion after an intense five-game series. A new world record for the longest wave appeared in the history of RLCS World Championship. Here is a review of RLCS World Championship Season 7.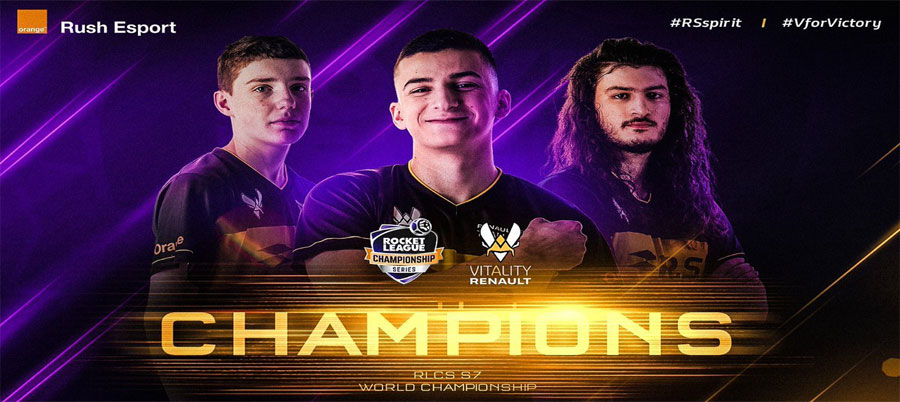 Twelve Best Teams in the Finals of RLCS Season 7 World Championship
Twelve teams from regions including North America, Europe, Oceania and South America have competed for the champion. Renault Vitality won the title and G2 Esports came the second.
Renault Vitality
FC Barcelona
PSG Esports
Triple Trouble
NRG Esports
Cloud9
G2 Esports
Rogue
Renegades
Ground Zero Gaming
Lowkey Esports
INTZ eSports

Rocket League World Championship Season 7 Prize Pool
The prize pool to be awarded for 12 best teams in the RLCS World Championship Season 7 is $529,500 in total. Here is the detail of the prize distribution for each team.
First Place: $200,000
Second Place: $120,000
Third Place: $40,000
Fourth Place: $40,000
Fifth Place: $22,375
Sixth Place: $22,375
Seventh Place: $22,375
Eighth Place: $22,375
Nineth Place: $10,000
Tenth Place: $10,000
Eleven Place: $10,000
Tweleve Place: $10,000

Moreover, the best player of the tourament will get an additional award of $5,000. It is very attractive, right? If you want to be one of them, you must try hard to improve your game play skills. Whenever you need Rocket League Items, Keys and Crates to help you level up fast,it is highly recommended to go to the reliable store - Onlinegameshop.com. With rich experience in Rocket League Trading, Onlinegameshop.com offers cheap Rocket League Items to global fans with fast delivery, safe transaction and 24/7 online service. You can find what you need and more in our site.

If you have any problems on buying Rocket League Items, Keys and Crates, please feel free to contact us through our 24/7 online livechat. We will not let you down with our best service and we wish you a good shopping experience.