Rocket League Jurassic Park DLC Out Today, Features Various Items
Earlier today, Psyonix announced that a brand new car pack for Rocket league is available now, and it gives players a chance to jump into another one of the more legendary vehicles in movie history. In conjunction with the upcoming Jurassic World: Fallen Kingdom, players can now hop into the iconic Jurassic Jeep Wrangler and battle it out on the pitch.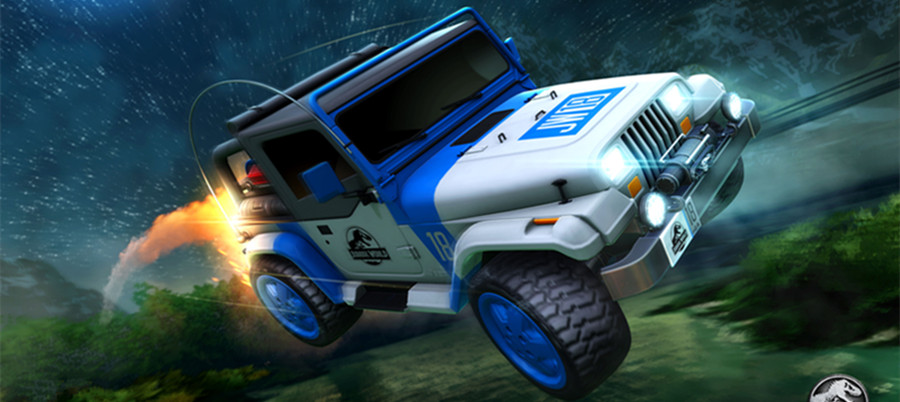 The Wrangler, which fans of the film franchise will obviously know and understand, joins the game alongside a collection of other Jurassic Park and Jurassic World-themed customization items. The Jurassic World Car Pack is available now for $1.99, and includes:
The Jurassic Jeep® Wrangler Battle-Car – equipped with a Jurassic World Decal for the Blue team and a Jurassic Park Decal for the Orange team

T. rex Goal Explosion

Jurassic Park Hard Hat Topper

Jurassic Park, Jurassic World, and Mr. DNA Player Banners

Jurassic World, Jurassic Park, and InGen Flags
Not only can you ride around in the Wrangler from the films, but you'll also be able to decorate your car with InGen flags and a hard hat topper to complete the Jurassic Park look. All that's missing is gigantic T. Rex's roaming about, but that's likely a good thing, all things considered.
Rocket League is available now.
Being the fast delivery of items at reasonably price.You can modulate all Rocket League Items there, such as goal explosions, Rocket League Keys, boosts Rocket League Crates, wheels, bodies, antennas, trails, decals and toppers to make your rocket- Rocket racing League Keys and Crates are the hot sale items amongst all rocket league items. powered car appear unique and assist you to win the match. With regular global payments, purchasing Rocket League items is made quickly.