Russia's victory over Saudi Arabia 5 to 0
MOSCOW -- The opening to the World Cup here on Thursday was, like so much about this tournament, a sequence of remarkably odd juxtapositions.
There was Vladimir Putin, the president of Russia, giving a rousing speech to the sellout crowd at Luzhniki Stadium in which he described his country as "an open, hospitable and friendly country" before heading to a VIP box in which the invited heads of state were mostly post-Soviet autocrats or dictators from places like Belarus, Kazakhstan and Azerbaijan, as well as a high-ranking official from North Korea.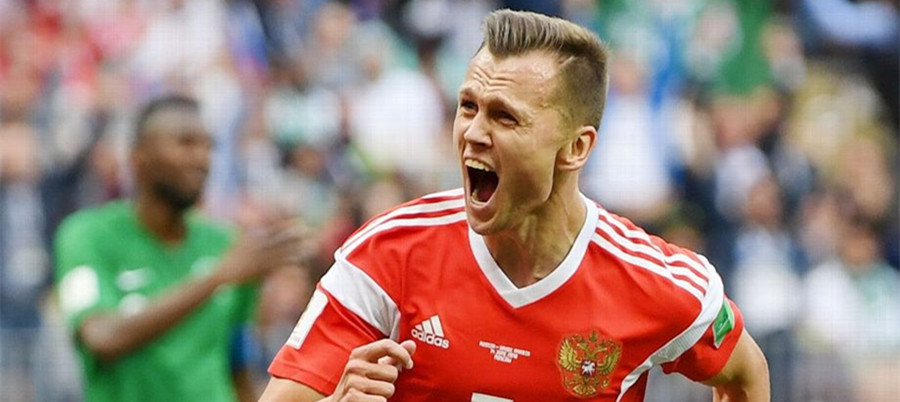 Then there was Putin encouraging visitors to "meet new friends and people who share the same values" while attending this "splendid football festival," only hours after a top Russian lawmaker warned Russian women against having sex with foreign men during the World Cup -- particularly if they are "of a different race."
"It's good if they're one race but if they're of a different race, then it's worse," said Tamara Pletnyova, a member of Russia's lower parliament, in a radio interview. "We should bear our own children. I'm not a nationalist, but all the same."
The opening ceremony, which has frequently been a long, elaborate (and often impossible to follow) bonanza, was markedly shorter and simpler. Robbie Williams, the British former pop star, gave a fairly unremarkable performance of a handful of songs though, for some reason, he did not sing his hit "Party Like A Russian," which would have seemed to be made for the occasion. Then moments before ceding the spotlight to Putin, Williams finished off his star turn by making an offensive gesture directly to the camera before exiting.
To be fair, this sort of weird contrast has largely been the theme in the build-up to this World Cup. Local organizers vowed that construction would be done on-budget and efficiently, only to see delays and cost overruns abound. Racism in Russian stadiums was supposed to be brought under control but Russia was fined as recently as last month for failing to properly deal with racist incidents.
This event, the showpiece of the world's most popular game, was supposed to be above politics, according to everyone from Putin on down, yet Putin and Saudi Arabia crown prince Mohammed bin Salman had a meeting about OPEC before the match between their respective national teams kicked off.
The game itself, perhaps, offered the best play against type. Saudi Arabia is ranked 67th in the world and Russia, at 70th, is the second lowest-ranked World Cup host in history. (South Africa were 83rd according to FIFA in 2010.) Expectations for the match were tepid, at best. Most media coverage of the Russian team centered on the question of whether the players would embarrass themselves in front of their home fans and crash out of the tournament after the group stage.
When Alan Dzagoev, a sharp attacking midfielder, pulled up with a hamstring injury early in the first half, the projections looked even worse. Only then Russia, surprisingly, turned it up. Saudi Arabia's defending was woeful, to be sure, but Dzagoev's replacement, Denis Cheryshev, ripped a lovely finish just before half-time, Artem Dzyuba scored with his first touch after coming on and Russia added two more in second-half stoppage-time (including a gorgeous long-range blast from Cheryshev) to cap a five-goal rout.
It was a dream beginning, and a result that was hard to have imagined. But then, maybe that fit the motif so far. At this tournament, a team many thought might not win a game had somehow, some way, opened things up with an emphatic win.
Cheapest FIFA 18 Coins, FIFA 18 Points, FIFA 18 Account and FIFA 18 Comfort Trade On www.onlinegameshop.com, Instant Delivery, 24/7 Service. 100% Safety!