A look at top performers from the sixth day of action at the MGM Resorts NBA Summer League:
Reggie Upshaw, LA Clippers

Upshaw likes to eat broccoli chicken alfredo (his favorite food) and win basketball games, and there was no broccoli chicken alfredo at the Cox Pavilion Wednesday. So the 6-foot-7 forward scored 24 points, hitting 9-of-15 shots in the Clippers' start-to-finish handling of Washington. Undrafted out of Middle Tennessee State in 2017, Upshaw played in Las Vegas last summer with Milwaukee's entry and spent the 2017-18 season with the Walter Tigers Tubingen (Germany) club.
Collin Sexton, Cleveland Cavaliers
The No. 8 pick overall in last month's Draft, Collin Sexton scored 25 points on 9-of-15 shooting and passed for seven assists to help Cleveland improve to 3-1. He missed his two 3-point attempts (he's 2-of-10 from deep now) but hit seven of his nine foul shots and was a game-best plus-22 while playing nearly 26 minutes.
Wendell Carter Jr. and Chandler Hutchison, Chicago Bulls
Backcourt gunner Antonio Blakeney scored 28 points for Chicago, but first-round picks Carter and Hutchison had more impact, posting plus/minus numbers of plus-22 and plus-23 respectively in a win over Dallas. Carter continued his string of steady performances with 19 points on 9-of-11 shooting and nine rebounds, while Hutchison had a double-double of 16 and 11.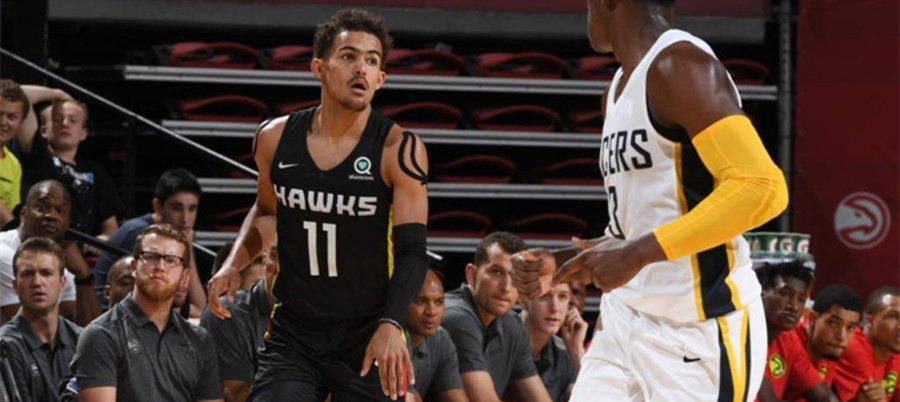 Tyler Dorsey and Trae Young, Atlanta Hawks
Halfway through their game against Indiana, Dorsey (six) and Young (seven) weren't even on pace to score their Vegas averages (15.0 each) and the Hawks trailed by 22 points. Over the final 20 minutes, though, Dorsey scored 18, Young added 16 and Atlanta's second unit in particular helped it claw back to beat the Pacers 107-101. Dorsey, a second-year guard from Oregon who ranked eighth among rookies last season in 3-point percentage (.362), hit six of his 10 attempts from the arc. Meanwhile lottery draftee Young – whose shooting has been scrutinized to the extreme this summer – made seven of his 14 shots overall, just 2-of-7 from the arc (where he's 12-of-31 so far) but 5-of-7 inside it. His eight assists were especially helpful down the stretch of the Hawks' 35-16 fourth quarter.
Bruce Brown, Detroit Pistons
Considering that his University of Miami team had to cover its final 12 games without Brown, who underwent left foot surgery in January, it might only be fair that Brown stepped in Wednesday for Larry Drew II, a point guard who went down against Minnesota. Shifting from his natural wing position, the 6-foot-5 Brown helped with ball-handling chores and on-ball defense while cramming the stats sheet: 15 points, 11 rebounds, six assists and five steals in the 64-59 win. He had averaged 11.0 points, 1.3 rebounds and 1.3 assists in the Pistons' first three Vegas games.
Monte Morris, Denver Nuggets
Morris, a two-way player who logged only 25 minutes with the Nuggets last season, continued his bid for Denver's backup point guard role with 21 points in 29 minutes and seven assists to one turnover in an 85-77 loss to Toronto. The No. 51 pick overall in 2017 out of Iowa State nailed three of his five 3-point attempts and shot 7-of-12 overall while the rest of his team was sputtering to 24-of-67. The 6-foot-3 Morris now has 25 assists to five turnovers.
Willy Hernangomez, Charlotte Hornets
Hernangomez, who already has 120 games of NBA experience (including 48 last season split between the Knicks and the Hornets), continued to show his comfort level with 18 points, 13 rebounds and two blocked shots to boost Charlotte past Golden State, 87-69. Hernangomez has been a double-double machine and now is averaging 18.3 points and 12.0 boards.
Cheapest NBA 2K18 MT, Cheap NBA 2K18 Coins and NBA 2K18 VC Account on www.OnlineGameShop.com, instant delivery, 24/7 service. 100% safety!