The North American bid has the support of 16 voting nations in South and Central America, as well as Saudi Arabia
FIFA pointed to its rules governing the selection of the 2026 World Cup hosts on Friday, one day after U.S. President Donald Trump questioned supporting countries that lobby against a joint North American bid.
The governing body's code of ethics prohibits government interference in all member countries' respective national soccer federations, and the bidding regulations also warn against "any undue influence on the outcome."
"As a general rule, we cannot comment on specific statements in connection with the bidding process," a FIFA statement to Reuters read. "We can only refer to the FIFA Regulations for the selection of the venue for the final competition of the 2026 FIFA World Cup, and in particular to the Bid Rules of Conduct incorporated therein."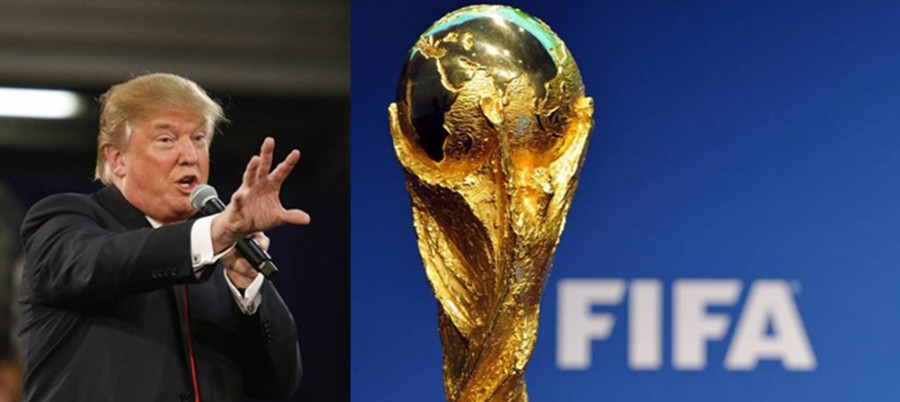 The U.S., in a joint bid with Mexico and Canada, is battling Morocco for the rights to host the world's biggest sporting event, with a vote from all member nations set for June.
In tweeting his support of the North American bid on Thursday night, Trump also included a message for other countries that may have violated FIFA's rules.
"The U.S. has put together a STRONG bid w/ Canada & Mexico for the 2026 World Cup," the president tweeted. "It would be a shame if countries that we always support were to lobby against the U.S. bid. Why should we be supporting these countries when they don't support us (including at the United Nations)?"
In response, FIFA highlighted its Bid Rules of Conduct, which prohibit anyone affiliated with a bid "from making any written or oral statements of any kind, whether adverse or otherwise, in relation to the bids of other member associations that expressed their interest in submitting to FIFA a bid to host the final competition of the 2026 FIFA World Cup or other Candidate Host Associations."
The FIFA rules also instruct member associations to reject "any attempt to be influenced in relation to their function and obligations."
In announcing the joint bid a year ago, then-U.S. Soccer president Sunil Gulati said the effort had Trump's full support.
Several European countries' soccer federations -- including Russia, France and Belgium -- have announced they will back Morocco's bid, which is also likely to earn significant support from African nations.
The governments of Caribbean nations St. Lucia and Dominica have also pledged support for Morocco, though they are bound by the same FIFA rules against influencing their federations' votes.
ESPN reported in February that the race between the joint bid and Morocco was already much closer than expected, due in part to Trump's foreign policies -- including a travel ban against mostly Arab countries -- and rhetoric in describing poorer countries. Lingering resentment over the U.S. Department of Justice investigation into FIFA corruption has also hampered the U.S.-led bid's effort to attract votes.
Cheapest FIFA 18 Coins, FIFA 18 Points, FIFA 18 Account and FIFA 18 Comfort Trade On www.onlinegameshop.com, Instant Delivery, 24/7 Service. 100% Safety!